Möt våra kollaborativa robotar
Öka produktiviteten och kvaliteten på produktionslinjer
OMRON TM-cobotarna är avsedda för tillverkare som vill anamma framtiden och öka produktionen. Cobotar är perfekta medarbetare som automatiserar repetitiva uppgifter som maskindrift, monteringsuppgifter eller lastning och lossning.
Samarbetsrobotar, eller cobotar, är enkla att installera och erbjuder en snabb och kostnadseffektiv lösning. 
De kan öka produktionens flexibilitet, kvalitet och hastighet 
Och göra det möjligt för ditt företag att reagera snabbt på föränderliga marknadsförhållanden.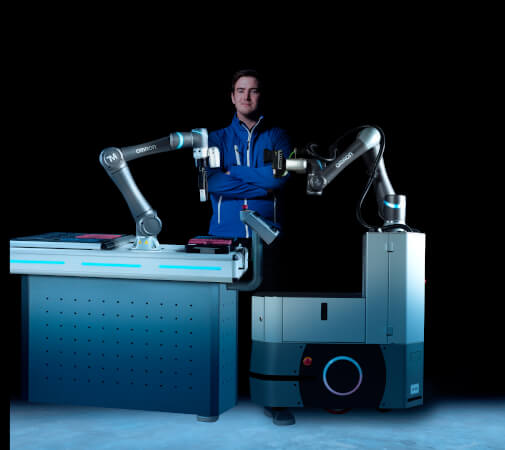 Lätt att starta
För att minska stilleståndstiden för automatisering med robotar behöver du en robot som kan komma igång snabbt och fortsätta arbeta. Våra cobotar levereras med allt du behöver för att komma igång direkt.
Låg ägandekostnad
OMRONs cobotar ger högsta avkastning på investeringen. De är flexibla och kan anpassas till nya produktionsprocesser och layouter på några minuter.
Flexibilitet
Våra samarbetsrobotar är utformade för att enkelt kunna användas för olika uppgifter och tillämpningar, vilket gör produktionen flexibel.
Utformade för flexibel tillverkning
Våra cobotar är utformade så att de enkelt kan användas för olika uppgifter och tillämpningar. De gör produktionen så flexibel den behöver vara och gör det möjligt för dina medarbetare att fokusera på det de gör bäst.
Produkters livscykel blir allt kortare. Produktions- och automationslösningar kan hjälpa dig att anpassa produktionsprocesserna snabbt. 
Cobotar kan bidra till att framtidssäkra små och medelstora företag där det behövs, från enkla plock- och placeringstillämpningar för hantering av smådelar, sortering och palletering till maskinmontering. 
Dina medarbetare upplever också stora fördelar eftersom de befrias från monotona och fysiskt krävande eller till och med farliga arbeten. Våra cobotar hjälper dem med tunga lyft och precisionsarbete, så att de kan koncentrera sig på sina kärnförmågor.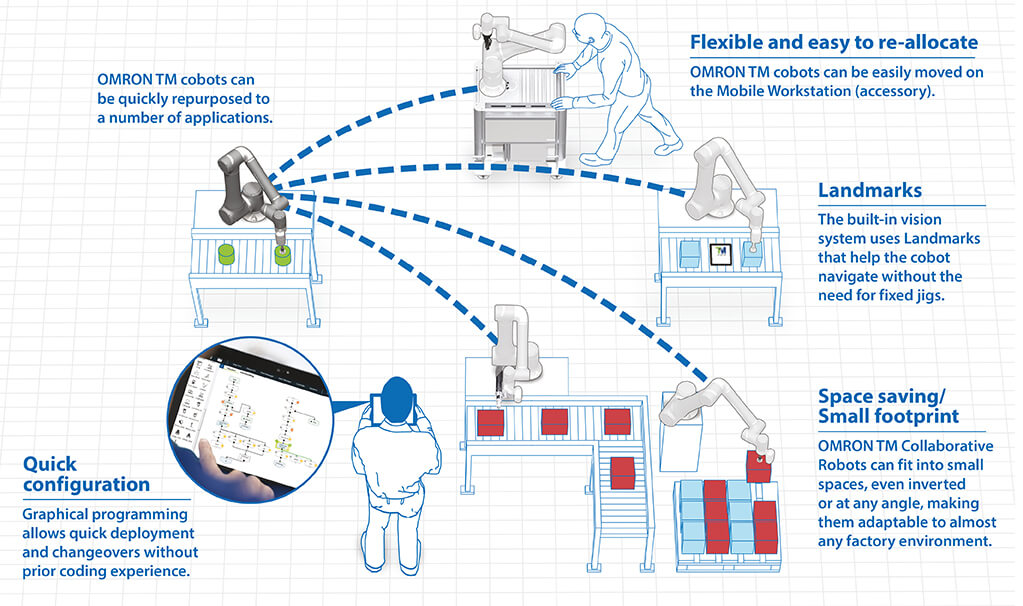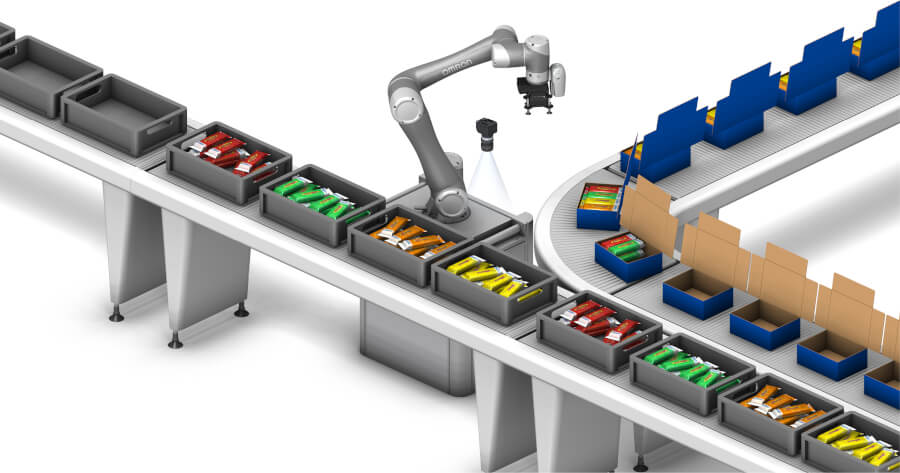 WEBBINARIUM
Hur programmerar jag en kollaborativ robot? Hur effektiverar jag min produktion med 3D Bin Picking?
No future dates
Människor och maskiner arbetar tillsammans
Våra cobotar lär sig snabbt och kan göra din produktion mer effektiv. På bara några minuter kan du lära dem hur de kan dela uppgifter med människor och flexibelt anpassas till nya krav. Du får alla fördelar med integrerade säkerhetsfunktioner som gör att de kan arbeta tillsammans med eller nära människor och öka produktiviteten för en mängd olika repetitiva uppgifter.
Titta på videon
Omron's factory in Shanghai is creating an environment where people and robots work together, to meet challenges in manufacturing today, such as shortage in manpower and overall equipment effectiveness (OEE). In this video, you can see how Omron TM collaborative robots work safely side-by-side with people.

04:46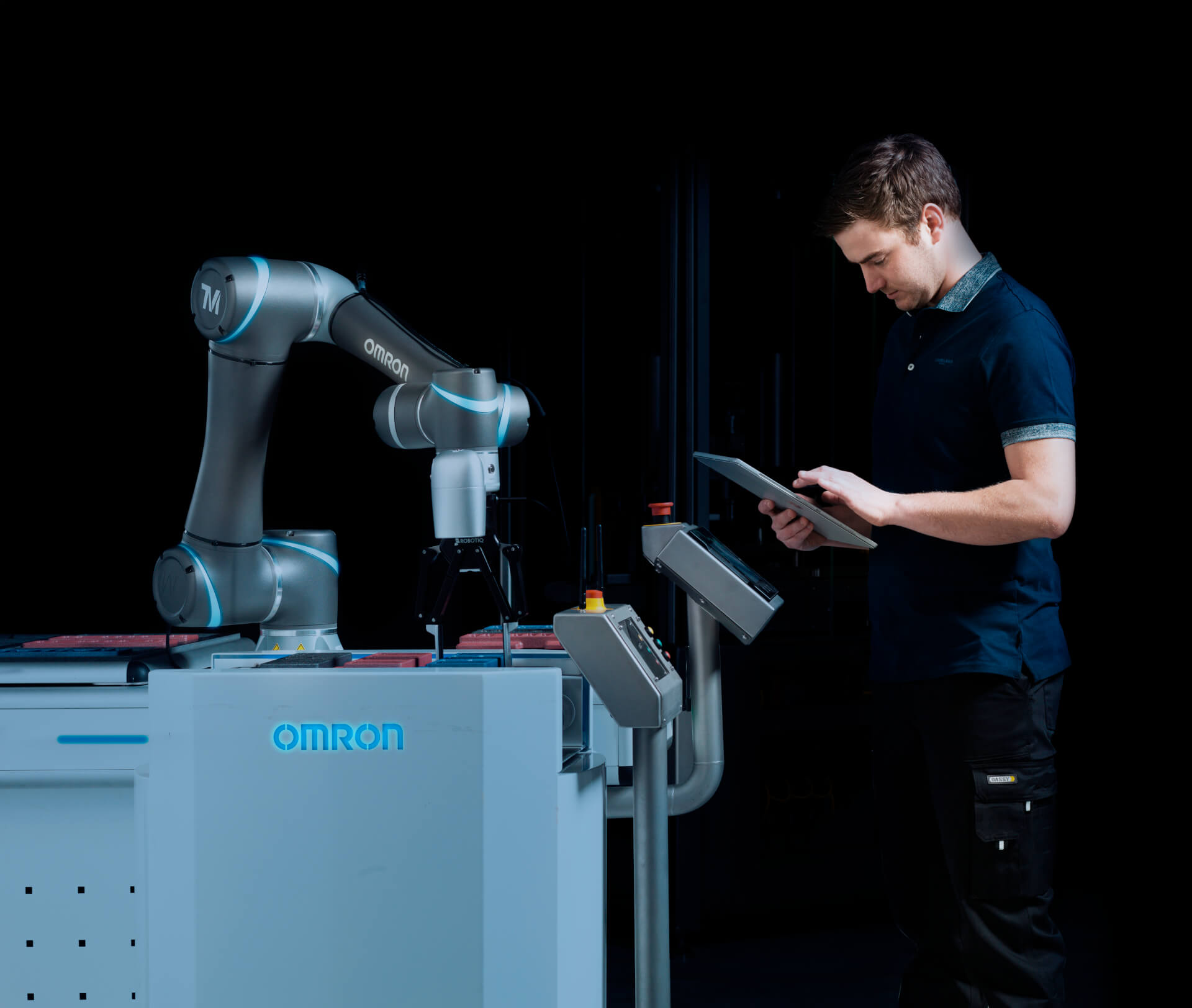 Välja cobot eller industrirobot
Samarbetsrobotar från OMRON TM förändrar den traditionella fabrikens arbetsmetoder. Inga fysiska skyddsburar behövs längre. OMRON TM-cobotarna är utformade för produktion i mindre volymer med snabba växlingar och i en hastighet som kan jämföras med människor, och de kan arbeta i harmoni med människor.
Traditionell industrirobot
Traditionella industrirobotar måste separeras från mänsklig aktivitet av ett säkerhetsstaket eller en bur och måste stå på en och samma plats eftersom de normalt används för en viss, specifik uppgift.
Komplex konfiguration
Robotexperter krävs
Oflexibla lösningar
Stort format
Skyddsstaket krävs
Hög extrakostnad
Samarbetsrobot (cobot)
Cobotar har utformats för att arbeta säkert och i harmoni med människor. De kan flyttas från en plats till en annan och arbeta med olika uppgifter.
Snabb konfiguration
Inga experter krävs
Flexibel och lätt att driftsätta
Utrymmesbesparande/litet format
Samarbete mellan människa och maskin
Kort avkastning
Möt våra kollaborativa robotar
OMRONs utbud av samarbetsrobotar omfattar en rad olika modeller för att garantera rätt räckvidd och nyttolast för olika tillämpningar.
Längd
Last
Maximal hastighet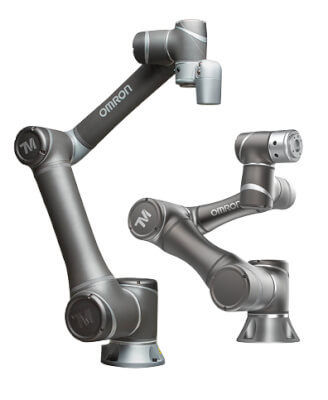 TM 5 - 700
Längd

700 mm

Last

6 kg

Maximal hastighet

1,1 m/s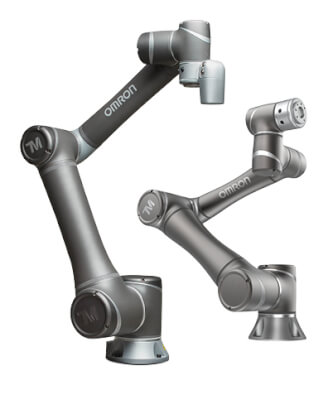 TM 5 - 900
Längd

900 mm

Last

4 kg

Maximal hastighet

1,4 m/s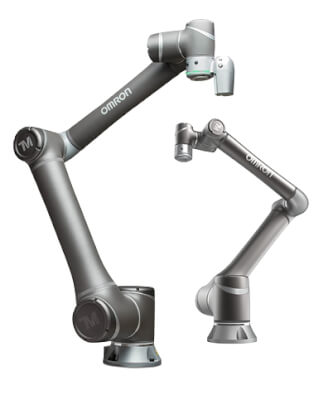 TM 12
Längd

1 300 mm

Last

12 kg

Maximal hastighet

1,3 m/s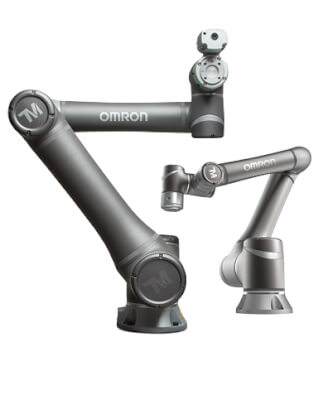 TM 14
Längd

1 100 mm

Last

14 kg

Maximal hastighet

1,1 m/s
Vill du veta mer om våra samarbetsrobotar?
Tillämpningar
Oavsett om du arbetar inom tillverkning av fordon, livsmedel, förpackningar, plast, maskinverktyg eller läkemedel är samarbetsroboten från OMRON TM utformad för att anpassas till nästan alla branscher.