Möt nästa generations medarbetare
Öka medarbetarnas produktivitet
Tänk dig att du har alla resurser du behöver för att hålla produktionen igång och klara efterfrågan. Letar du efter ett nytillskott till ditt team för att förbättra produktiviteten? Träffa nästa generations medarbetare.
Samarbetsrobotar, eller cobotar, är enkla att installera och erbjuder en snabb och kostnadseffektiv lösning. De kan öka produktionens flexibilitet, kvalitet och hastighet och göra det möjligt för ditt företag att reagera snabbt på föränderliga marknadsförhållanden.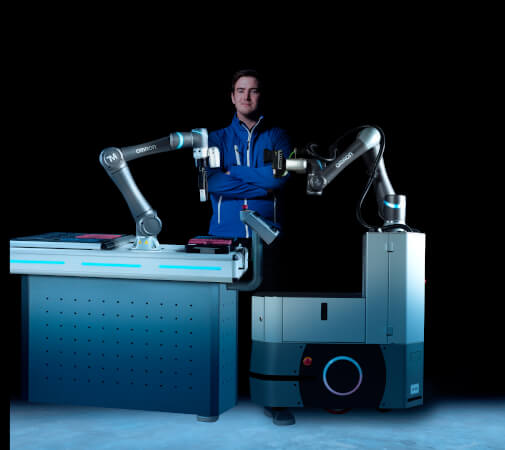 Lätt att starta
För att minska stilleståndstiden för automatisering med robotar behöver du en robot som kan komma igång snabbt och fortsätta arbeta. Våra cobotar levereras med allt du behöver för att komma igång direkt.
Låg ägandekostnad
OMRONs cobotar ger högsta avkastning på investeringen. De är flexibla och kan anpassas till nya produktionsprocesser och layouter på några minuter.
Flexibilitet
Våra samarbetsrobotar är utformade för att enkelt kunna användas för olika uppgifter och tillämpningar, vilket gör produktionen flexibel.
Arbeta i harmoni
Våra cobotar lär sig snabbt och kan göra din produktion mer effektiv. På bara några minuter kan du lära dem hur de kan dela uppgifter med människor och flexibelt anpassas till nya krav. Du får alla fördelar med integrerade säkerhetsfunktioner som gör att de kan arbeta tillsammans med eller nära människor och öka produktiviteten för en mängd olika repetitiva uppgifter.
Titta på videon
Omron's factory in Shanghai is creating an environment where people and robots work together, to meet challenges in manufacturing today, such as shortage in manpower and overall equipment effectiveness (OEE). In this video, you can see how Omron TM collaborative robots work safely side-by-side with people.

04:46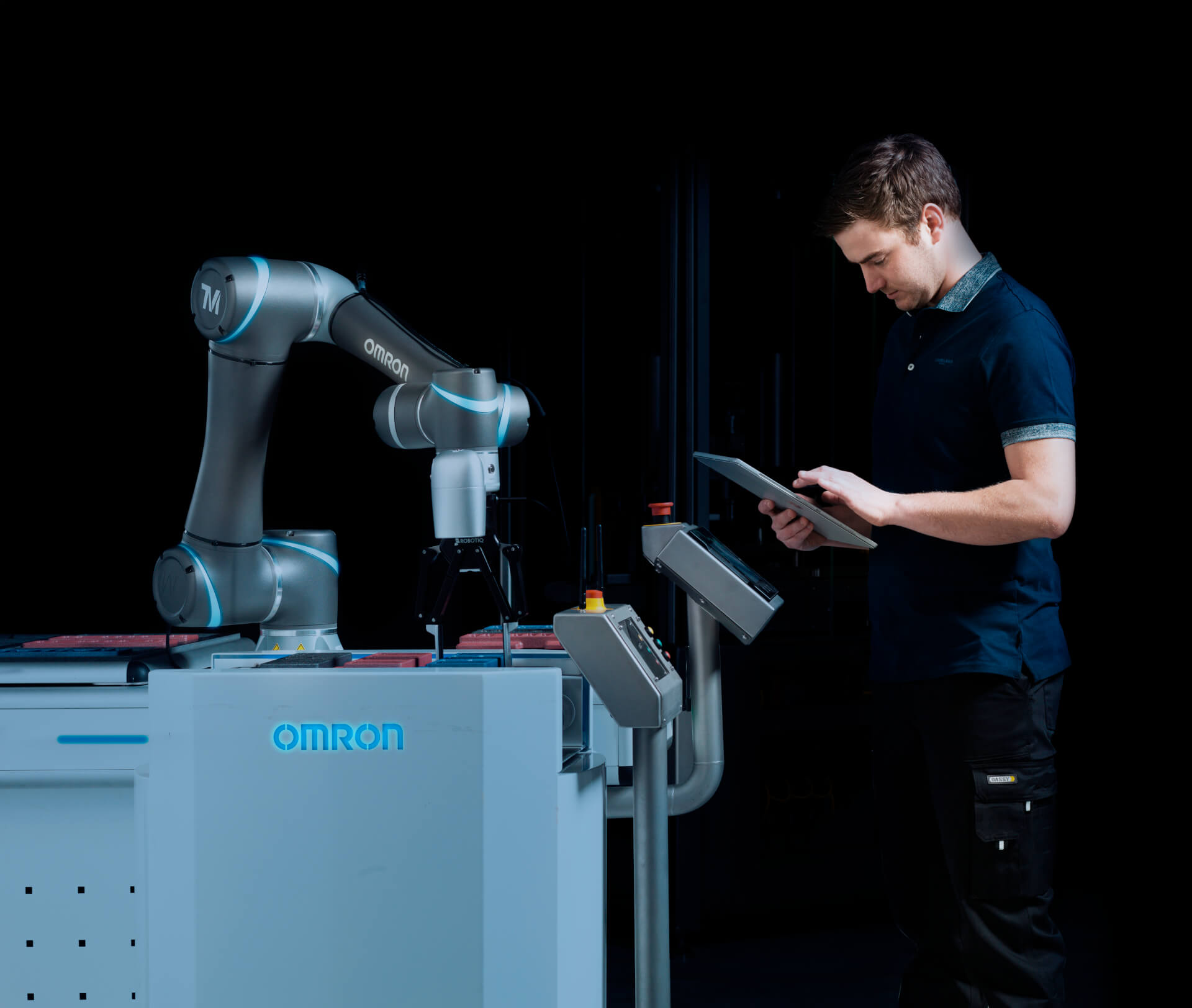 Tillämpningar
Oavsett om du arbetar inom tillverkning av fordon, livsmedel, förpackningar, plast, maskinverktyg eller läkemedel är samarbetsroboten från OMRON TM utformad för att anpassas till nästan alla branscher.
Vill du veta mer om våra samarbetsrobotar?
Säkerhet i samarbetstillämpningar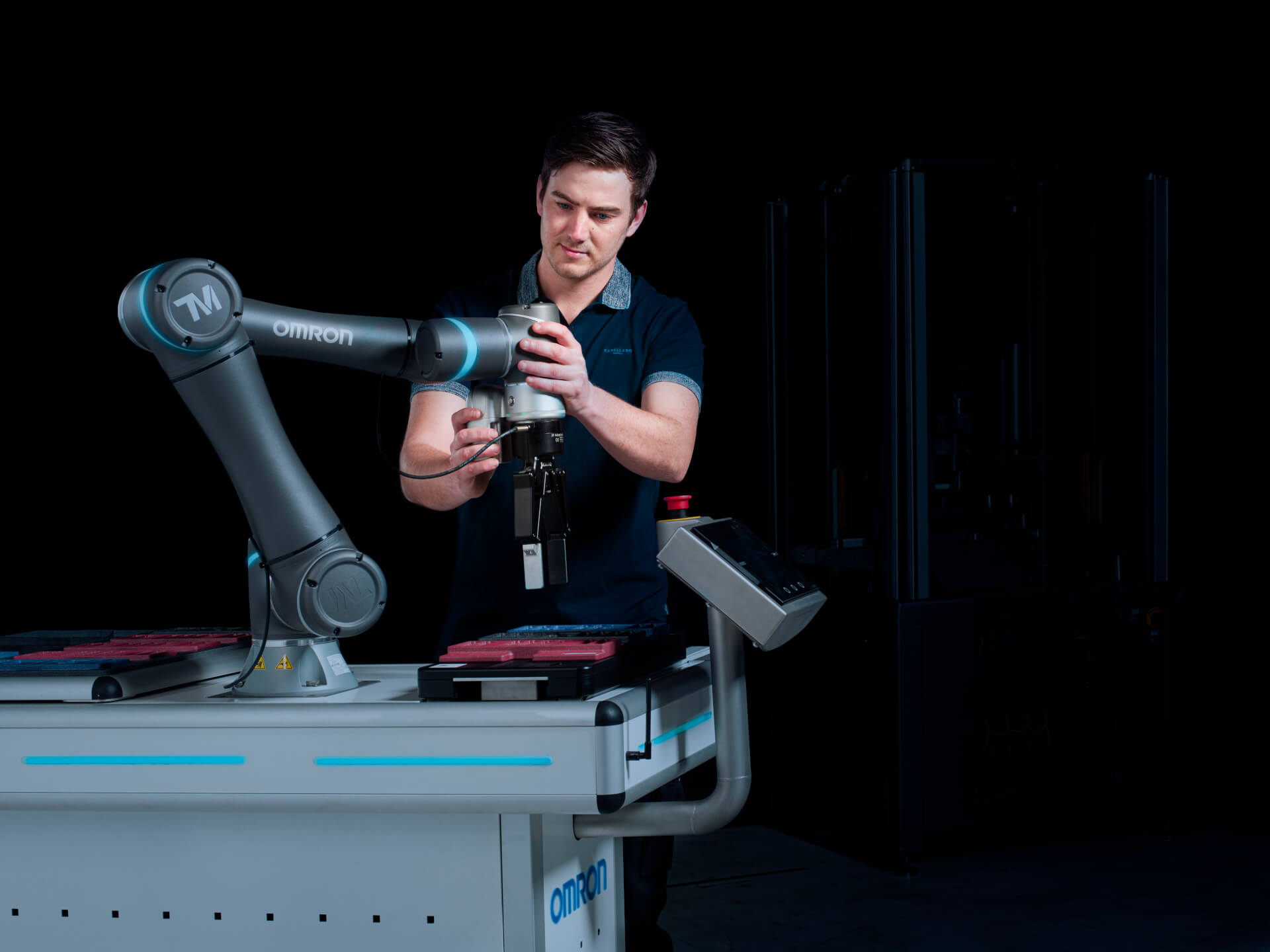 Cobotar har integrerade säkerhetsfunktioner som gör att de kan arbeta nära människor samtidigt som de ökar produktiviteten i en mängd olika krävande och repetitiva uppgifter.
Cobotarna är enkla att implementera och kan snabbt och enkelt anpassas till nya situationer och arbeta nära din befintliga personal. De har tid att göra det som människor gör bäst – kreativa och värdeskapande uppgifter.
Vi har utformat våra cobotar enligt säkerhetsstandarderna ISO 10218-1 och ISO 10218-2 och den tekniska specifikationen ISO TS-15066 för att definiera de säkerhetsfunktioner och prestanda som krävs. Vi bjuder in dig att ladda ned vårt faktablad om cobotar för att läsa om branschstandarder, riskbedömningar, bästa praxis och strategier för att maximera värdet av din tillämpning.
Riskutvärderingstjänst
Vårt team finns här för att hjälpa dig att introducera cobotar i ditt team. Vi börjar med en riskutvärderingstjänst för att minska de potentiella säkerhetsriskerna i produktionen. Våra säkerhetstekniker med oöverträffad expertis identifierar relevanta standarder och krav för all interaktion mellan människor och maskiner.
Möt nästa generations medarbetare
OMRONs utbud av samarbetsrobotar omfattar en rad olika modeller för att garantera rätt räckvidd och nyttolast för olika tillämpningar.
Längd
Last
Maximal hastighet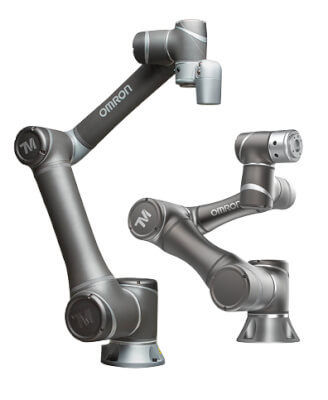 TM 5 - 700
Längd

700 mm

Last

6 kg

Maximal hastighet

1,1 m/s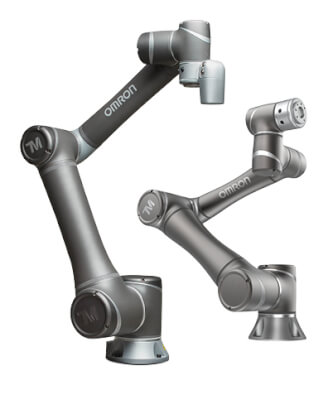 TM 5 - 900
Längd

900 mm

Last

4 kg

Maximal hastighet

1,4 m/s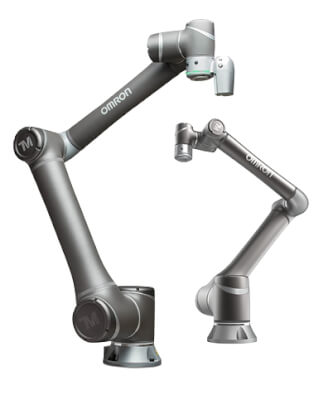 TM 12
Längd

1 300 mm

Last

12 kg

Maximal hastighet

1,3 m/s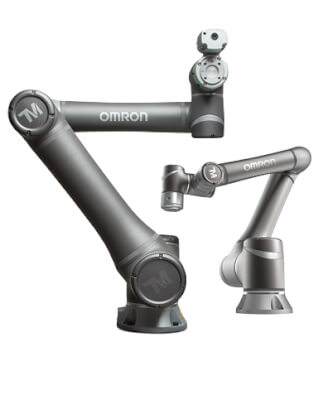 TM 14
Längd

1 100 mm

Last

14 kg

Maximal hastighet

1,1 m/s
Cobotar ger mycket större flexibilitet
Våra cobotar är utformade så att de enkelt kan användas för olika uppgifter och tillämpningar. De gör produktionen så flexibel den behöver vara och gör det möjligt för dina medarbetare att fokusera på det de gör bäst.