Möt Omrons I4L Scara-robot, den mest användarvänliga industriroboten på marknaden
Letar du efter en industrirobot som kombinerar användarvänligheten och flexibiliteten hos kollaborativa robotar med precisionen och hastigheten hos den traditionella industriroboten?
Vår nya kompakta i4L SCARA-robot är OMRON:s innovativa lösning på en flexibel robotplattform med fyra grader av frihet för en mängd olika hanteringsapplikationer. I4L finns också i en prisklass som gör den intressant som ett alternativ till mer traditionella linjära matar- och manöverdonslösningar.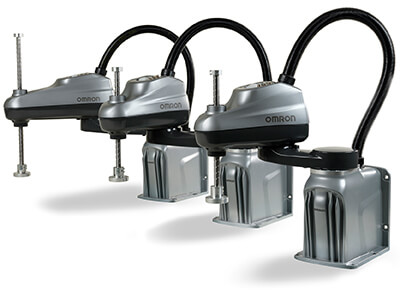 Utöka din materialhantering med OMRONs i4L SCARA-robot idag
Den bäst presterande industriroboten för din fabrik
Den kompakta i4L SCARA-roboten erbjuder hög prestanda till lägsta ägandekostnad I4L-roboten kan hantera rörelser med hög hastighet och hög precision med nyttolaster på upp till 5 kg. Du kan därför arbeta snabbare med enkel integration och synkronisering genom att implementera flera robotar och minska komplexiteten vid installation samt programmeringstiden.
I4L erbjuder också enkel integration i en kompakt design och med litet fotavtryck till följd av den integrerade styrenheten. Installationen är enkel eftersom roboten kan monteras på en horisontell yta (bordsfäste) eller en vertikal yta (väggmontering) utan att behöva extra adaptrar eller fästen. Kabelanslutningar kan ordnas så att de går ut genom monteringsytan eller är parallella med monteringsytan.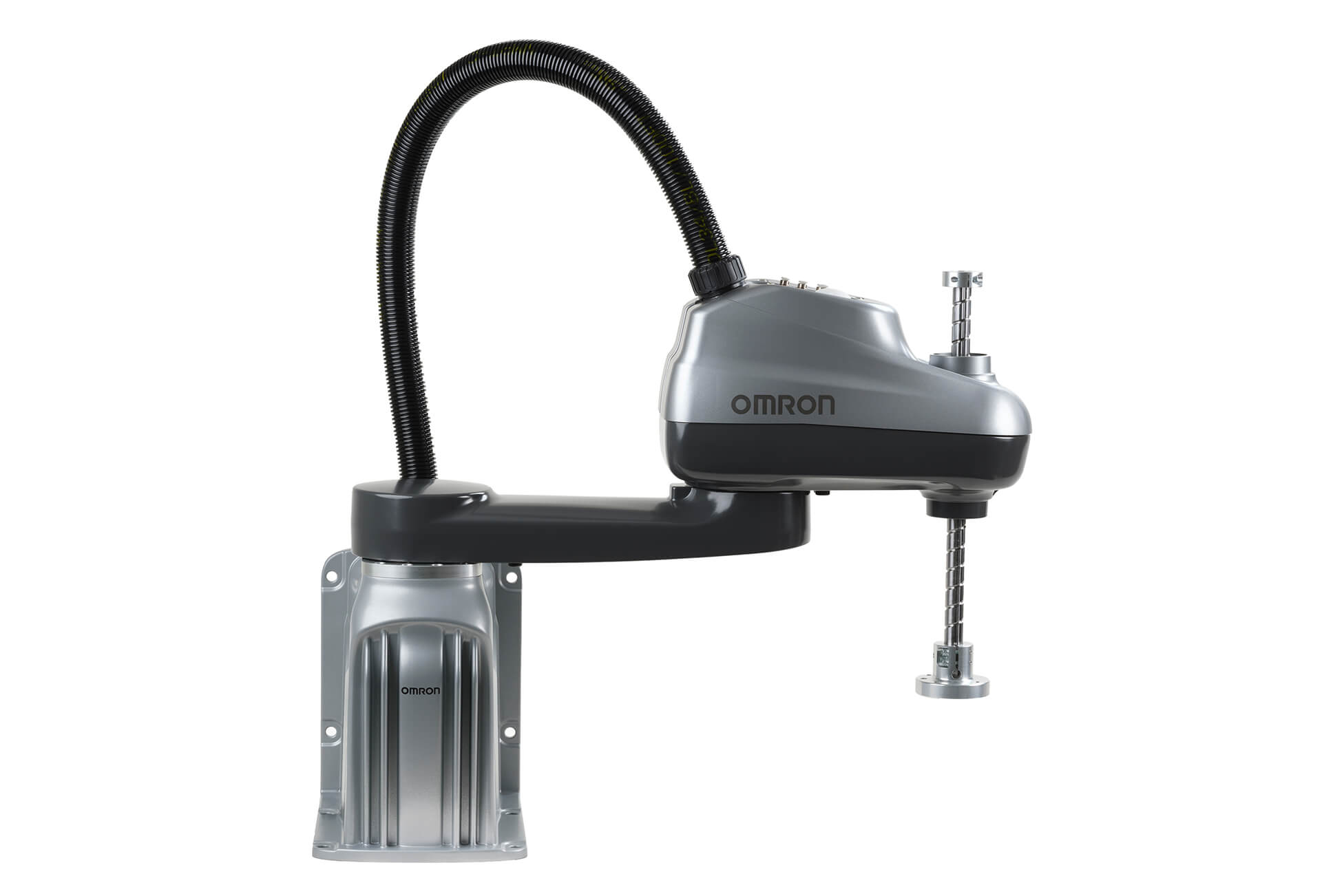 Är du intresserad av att veta mer om I4L-roboten?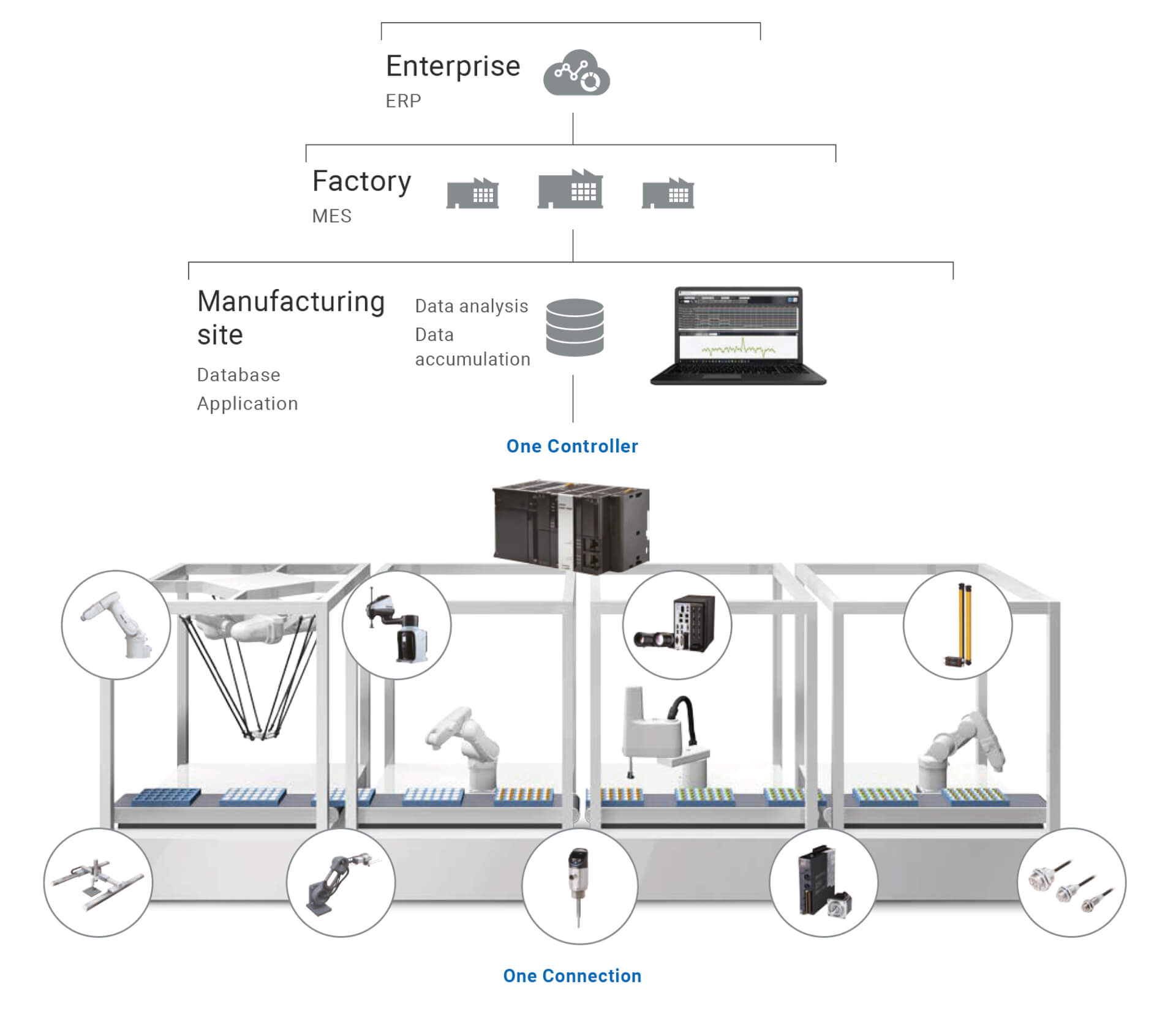 Möt världens första robotintegrerade styrenhet
Vår robotintegrerade styrenhet synkroniserar perfekt med automatiseringsteknik så att kunderna kan förbättra sin produktionshastighet och -noggrannhet, simulera hela produktionslinjen, förenkla underhållet och minska den tid det tar att få ut produkterna på marknaden.
Upp till 8 robotar per styrenhet (SCARA/artikulerad/parallell)
Upp till 64 servoaxlar
Ethercat för snabb synkronisering
Ethernet/IP för kommunikation med andra system
Direkt databasåtkomst (tillval)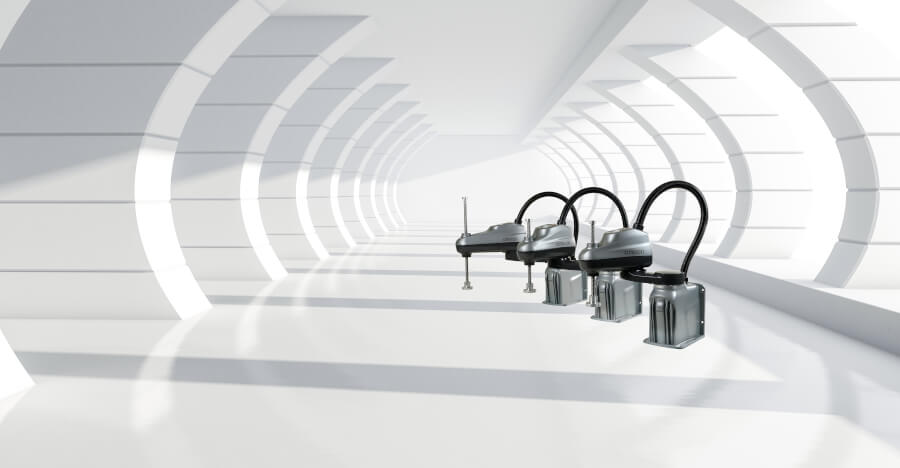 WEBBINARIUM
Gratis evenemang: 1 september kl. 14
1 sep, 2021 14.00 - 15.00
Our SCARA Lineup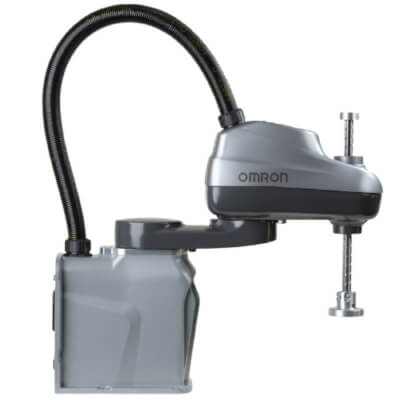 i4L
New i4L robot for precision machining, assembly and material handling
The i4L is a compact SCARA robot which offers strong performance at the lowest cost of ownership.
5 kg maximal nyttolastkapacitet
Räckvidd på 350, 450 eller 550 mm
En standardspole på 180 eller 350 mm för modeller med 550 mm-räckvidd
Golvmonterad och väggmonterad gränssnittspanel vald från botten och bakre delen beroende på installationsposition
EtherCAT-* eller Ethernet-anslutning
Flerfärgad LED-ljuskupol med utmärkt sikt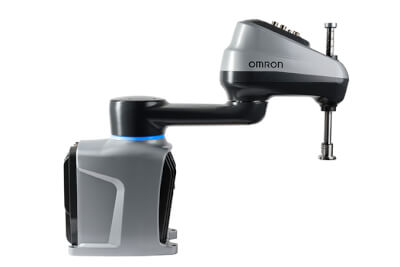 i4H
Gain more out of production with a higher payload and faster cycle time
Achieve more by seamlessly integrating the robust i4H into your production line today. With an updated robust design, the i4H can achieve a more meaningful and efficient production for your factory needs.
15 kg maximal nyttolastkapacitet
Räckvidd på 650, 750 eller 850 mm
Ett standardalternativ med spole på 210 eller 410 mm
Alla modeller kan monteras på golv, vägg eller vändas för taket EtherCAT-anslutning
EtherCAT-anslutning
Flerfärgade LED-ringsindikatorer och otroligt tydlig display
IP65-, Cleanroom-, ESD- och USDA-certifieringsalternativ*