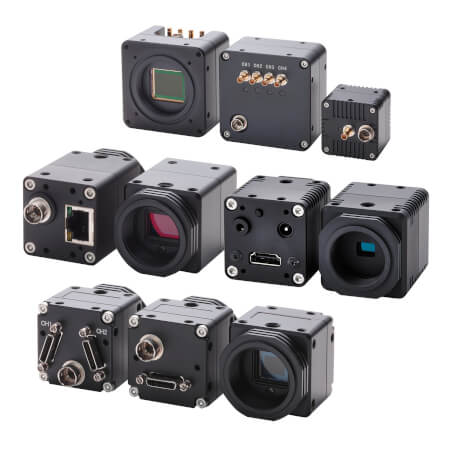 GigE Vision
High-performance industrial GigE Vision cameras
High resolution
High speed CMOS sensors
Power over Ethernet
Sony CMOS (Pregius) adopted cameras also available
Specifications & ordering info
| Produkt | Communication port(s) | Number of pixels | Autofocus | Camera family | Camera type | Frame rate | Illumination | Image width | Image height | Scan type | Shutter type | Image sensor format | Image sensor type | Lens mount | Lens type | Pixel size | Degree of protection (IP) | Description |
| --- | --- | --- | --- | --- | --- | --- | --- | --- | --- | --- | --- | --- | --- | --- | --- | --- | --- | --- |
| | GigE, PoE | 10.3 MP | No | GigE | Monochrome | 10.3 fps | | 3856 pixels | 2764 pixels | Area scan | Rolling | 1/2.3" | MT9J003 | C-mount | N/A | 1.67 µm | IP10 | GigE Vision Area Scan Camera, 10.0 MP, Monochrome, CMOS MT9J003, 1/2.3'', 1.67 µm, 10.3 fps, Rolling Shutter, C Mount, Cased, POE |
| | GigE, PoE | 5.0 MP | No | GigE | Monochrome | 14 fps | None | 2592 pixels | 1944 pixels | Area scan | Rolling | 1/2.5" | CMOS | C-mount | N/A | 2.2 µm | IP10 | GigE Vision Area Scan Camera, 5.0 MP, Monochrome, CMOS MT9P031, 1/2.5'', 2.2 µm, 14 fps, Rolling Shutter, C Mount, Cased, POE |
| | GigE, PoE | 1.3 MP | No | GigE | Monochrome | 61 fps | | 1280 pixels | 1024 pixels | Area scan | Global | 1/1.8" | EV76C560 | C-mount | N/A | 5.3 µm | IP10 | GigE Vision Area Scan Camera, 1.3 MP, Monochrome, CMOS EV76C560, 1/1.8'', 5.3 µm, 61 fps, Global Shutter, C Mount, Cased, POE |
| | GigE, PoE | 12.3 MP | No | GigE | Monochrome | 8.9 fps | None | 4096 pixels | 3000 pixels | Area scan | Global | 1.1" | IMX304 | C-mount | N/A | 3.45 µm | IP10 | GigE Vision Area Scan Camera, 12.0 MP, Monochrome, CMOS Sony IMX304, 1.1'', 3.45 µm, 8.9 fps, Global Shutter, C Mount, Cased, POE |
| | GigE, PoE | 12 MP | No | GigE | Monochrome | 8.7 fps | None | 4000 pixels | 3000 pixels | Area scan | Rolling | 1/1.7" | IMX226 | C-mount | N/A | 1.85 µm | IP10 | GigE Vision Area Scan Camera, 12.0 MP, Monochrome, CMOS Sony IMX226, 1/1.7'', 1.85 µm, 8.7 fps, Rolling Shutter, C Mount, Cased, POE |
| | GigE, PoE | 1.6 MP | No | GigE | Monochrome | 69 fps | None | 1440 pixels | 1088 pixels | Area scan | Global | 1/2.9" | IMX273 | C-mount | N/A | 3.45 µm | IP10 | GigE Vision Area Scan Camera, 1.6 MP, Monochrome, CMOS Sony IMX273, 1/2.9'', 3.45 µm, 69 fps, Global Shutter, C Mount, Cased, POE |
| | GigE, PoE | 2.0 MP | No | GigE | Monochrome | 54.4 fps | None | 1624 pixels | 1240 pixels | Area scan | Global | 1/1.7" | Other | C-mount | N/A | 4.5 µm | IP10 | GigE Vision Area Scan Camera, 2.0 MP, Monochrome, CMOS Sony IMX430, 1/1.7'', 4.5 µm, 54.4 fps, Global Shutter, C Mount, Cased, POE |
| | GigE, PoE | 20 MP | No | GigE | Monochrome | 5.6 fps | None | 5472 pixels | 3648 pixels | Area scan | Rolling | 1" | Other | C-mount | N/A | 2.4 µm | IP10 | GigE Vision Area Scan Camera, 20.0 MP, Monochrome, CMOS Sony IMX183, 1'', 2.4 µm, 5.6 fps, Rolling Shutter, C Mount, Cased, POE |
| | GigE, PoE | 2.3 MP | No | GigE | Monochrome | 41.6 fps | None | 1920 pixels | 1200 pixels | Area scan | Global | 1/1.2" | CMOS | C-mount | N/A | 5.86 µm | IP10 | GigE Vision Area Scan Camera, 2.3 MP, Monochrome, CMOS Sony IMX249, 1/1.2'', 5.86 µm, 41.6 fps, Global Shutter, C Mount, Cased, POE |
| | GigE, PoE | 3.2 MP | No | GigE | Monochrome | 33.4 fps | None | 2048 pixels | 1536 pixels | Area scan | Global | 1/1.8" | IMX265 | C-mount | N/A | 3.45 µm | IP10 | GigE Vision Area Scan Camera, 3.2 MP, Monochrome, CMOS Sony IMX265, 1/1.8'', 2048 x 1536 Pixels, 3.45 µm, 33.4 fps, Global Shutter, C Mount, Cased, POE |
| | GigE, PoE | 0.4 MP | No | GigE | Monochrome | 265 fps | None | 720 pixels | 540 pixels | Area scan | Global | 1/2.9" | IMX287 | C-mount | N/A | 6.9 µm | IP10 | GigE Vision Area Scan Camera, 0.4 MP, Monochrome, CMOS Sony IMX287, 1/2.9'', 6.9 µm, 265 fps, Global Shutter, C Mount, Cased, POE |
| | GigE, PoE | 5.0 MP | No | GigE | Monochrome | 21 fps | None | 2448 pixels | 2048 pixels | Area scan | Global | 2/3" | IMX264 | C-mount | N/A | 3.45 µm | IP10 | GigE Vision Area Scan Camera, 5.0 MP, Monochrome, CMOS Sony IMX264, 2/3'', 3.45 µm, 21 fps, Global Shutter, C Mount, Cased, POE |
| | GigE, PoE | 0.5 MP | No | GigE | Monochrome | 166.5 fps | None | 816 pixels | 624 pixels | Area scan | Global | 1/1.7" | CMOS | C-mount | N/A | 9.0 µm | IP10 | GigE Vision Area Scan Camera, 0.5 MP, Monochrome, CMOS Sony IMX433, 1/1.7'', 9.0 µm, 166.5 fps, Global Shutter, C Mount, Cased, POE |
| | GigE, PoE | 6.4 MP | No | GigE | Monochrome | 17.4 fps | None | 3072 pixels | 2048 pixels | Area scan | Rolling | 1/1.8" | CMOS | C-mount | N/A | 2.4 µm | IP10 | GigE Vision Area Scan Camera, 6.4 MP, Monochrome, CMOS Sony IMX178, 1/1.8'', 2.4 µm, 17.4 fps, Rolling Shutter, C Mount, Cased, POE |
| | GigE, PoE | 8.9 MP | No | GigE | Monochrome | 12.4 fps | None | 4096 pixels | 2160 pixels | Area scan | Global | 1" | CMOS | C-mount | N/A | 3.45 µm | IP10 | GigE Vision Area Scan Camera, 8.9 MP, Monochrome, CMOS Sony IMX267, 1'', 3.45 µm, 12.4 fps, Global Shutter, C Mount, Cased, POE |
| | GigE, PoE | 5.0 MP | No | GigE | Color | 14 fps | None | 2592 pixels | 1944 pixels | Area scan | Rolling | 1/2.3" | CMOS | C-mount | N/A | 2.2 µm | IP10 | GigE Vision Area Scan Camera, 5.0 MP, Color, CMOS MT9P031, 1/2.5'', 2.2 µm, 14 fps, Rolling Shutter, C Mount, Cased, POE |
| | GigE, PoE | 1.3 MP | No | GigE | Color | 61 fps | | 1280 pixels | 1024 pixels | Area scan | Global | 1/1.8" | EV76C560 | C-mount | N/A | 5.3 µm | IP10 | GigE Vision Area Scan Camera, 1.3 MP, Color, CMOS EV76C560, 1/1.8'', 5.3 µm, 61 fps, Global Shutter, C Mount, Cased, POE |
| | GigE, PoE | 12 MP | No | GigE | Color | 8.9 fps | None | 4096 pixels | 3000 pixels | Area scan | Global | 1.1" | IMX304 | C-mount | N/A | 3.45 µm | IP10 | GigE Vision Area Scan Camera, 12.0 MP, Color, CMOS Sony IMX304, 1.1'', 3.45 µm, 8.9 fps, Global Shutter, C Mount, Cased, POE |
| | GigE, PoE | 12 MP | No | GigE | Color | 8.7 fps | None | 4000 pixels | 3000 pixels | Area scan | Rolling | 1/1.7" | IMX226 | C-mount | N/A | 1.85 µm | IP10 | GigE Vision Area Scan Camera, 12.0 MP, Color, CMOS Sony IMX226, 1/1.7'', 1.85 µm, 8.7 fps, Rolling Shutter, C Mount, Cased, POE |
| | GigE, PoE | 1.6 MP | No | GigE | Color | 69 fps | None | 1440 pixels | 1088 pixels | Area scan | Global | 1/2.9" | IMX273 | C-mount | N/A | 3.45 µm | IP10 | GigE Vision Area Scan Camera, 1.6 MP, Color, CMOS Sony IMX273, 1/2.9'', 3.45 µm, 69 fps, Global Shutter, C Mount, Cased, POE |
Compare products
Show more products
How can we help you?
If you have a question or would like to ask for a quote, please contact us or send a request.
+46 (8) 632 35 00
Contact us
Kontakta mig GigE Vision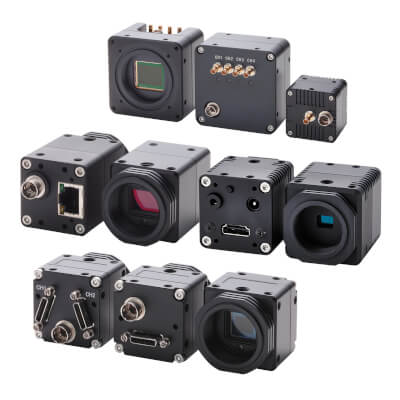 Tack för din förfrågan. Vi återkommer inom kort.
Vi har tekniska problem. Din formulär har inte varit framgångsrik. Vi ber om ursäkt och försök igen senare.
Download
Request quotation
Request quotation
Offert för GigE Vision
Fyll i alla obligatoriska fält. Vänligen fyll i alla fält markerade med *. Dina personliga uppgifter behandlas konfidentiellt.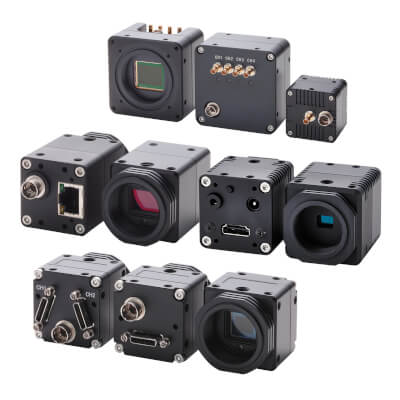 Tack för din offertförfrågan. Vi återkommer med önskad information inom kort.
Vi har tekniska problem. Din formulär har inte varit framgångsrik. Vi ber om ursäkt och försök igen senare.
Download
Features
What is GigE Vision?
GigE Vision is an interface standard introduced in 2006 for high-performance industrial cameras. It provides a framework for transmitting high-speed video and related control data over Ethernet networks. The standard was initiated by a group of 12 companies, and the committee has since grown to include more than 50 members. The 12 founding members were: Adimec, Atmel, Basler AG, CyberOptics, DALSA, JAI A/S, JAI PULNiX, Matrox, National Instruments, Photonfocus, Pleora Technologies and Stemmer Imaging. The Automated Imaging Association (AIA) oversees the on-going development and administration of the standard.
What is GigE POE?
Power over Ethernet or PoE describes any of several standardized or ad-hoc systems which pass electrical power along with data on Ethernet cabling. This allows a single cable to provide both data connection and electrical power to devices such as wireless access points or IP cameras. Unlike standards such as Universal Serial Bus which also power devices over the data cables, PoE allows long cable lengths. Power may be carried on the same conductors as the data, or it may be carried on dedicated conductors in the same cable.
What is resolution?
Image resolution is the detail an image holds. The term applies to raster digital images, film images, and other types of images. Higher resolution means more image detail. Image resolution can be measured in various ways. Basically, resolution quantifies how close lines can be to each other and still be visibly resolved. Resolution units can be tied to physical sizes (e.g. lines per mm, lines per inch), to the overall size of a picture (lines per picture height, also known simply as lines, TV lines, or TVL), or to angular subtenant. Line pairs are often used instead of lines; a line pair comprises a dark line and an adjacent light line. A line is either a dark line or a light line. A resolution 10 lines per millimeter means 5 dark lines alternating with 5 light lines, or 5 line pairs per millimeter (5 LP/mm). Photographic lens and film resolution are most often quoted in line pairs per millimeter.