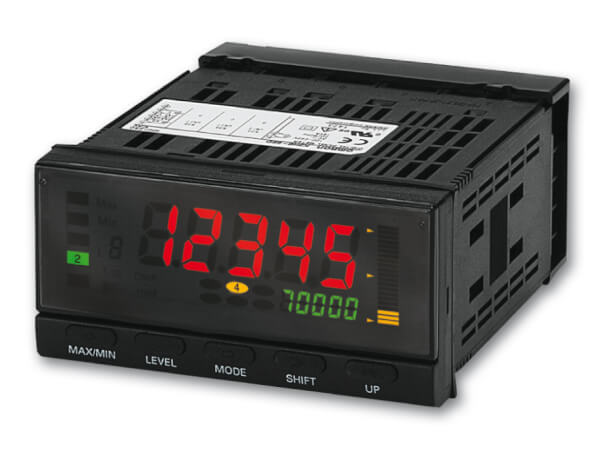 K3HB-P
Timer interval indicator measuring time, passing speed or 2-point cycles
These indicators with digital input feature a clear and easy-to-use colour-change display. All models are equipped with an IP66 housing.
Position meter indication for easy monitoring
Optional DeviceNet, RS-232C, RS-485
Double display, with 5 digits, in two colours
Dimensions: H 48 x W 96 x D 100mm
Specifications & ordering info
Ordering information
No voltage contact: 30 Hz max.
Voltage pulse: 50 kHz max.
Open collector: 50 kHz max.

Timer interval indicator K3HB-P1

Up/down counting pulse indicator K3HB-C1
Option boards
Sensor power supply/output boards
K33-CPA 2

K33-L1 A 3

K33-L2A 2

K33-A 2

K33-FLK1 A 2

K33-FLK3A 2
Relay/transistor output boards
Event input boards
Accessories
Note: K32-DICN special cable accessory (for event inputs with 8-pin connector) available on request. Please contact your Omron representative.
Specifications
100 to 240 VAC (50/60 Hz), 24 VAC/VDC, DeviceNet power supply: 24 VDC

85 to 110% of the rated power supply voltage, DeviceNet power supply: 11 to 25 VDC

100 to 240 V: 18 VA max. (max. load), 24 VAC/DC: 11 VA/7 W max. (max. load)

Negative LCD (backlit LED) display 7-segment digital display
(character height: PV: 14.2 mm (green/red); SV: 4.9 mm (green))

ON residual voltage: 2 V max., OFF leakage current: 0.1 mA max., load current: 4 mA max.
Maximum applied voltage: 30 VDC max.
---
How can we help you?
If you have a question or would like to ask for a quote, please contact us or send a request.
+46 (8) 632 35 00
Contact us
Kontakta mig K3HB-P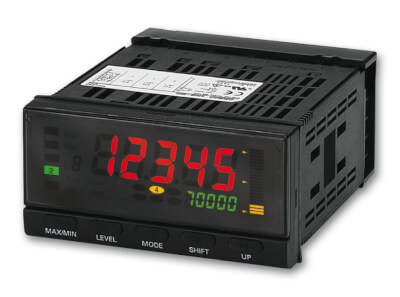 Tack för din förfrågan. Vi återkommer inom kort.
Vi har tekniska problem. Din formulär har inte varit framgångsrik. Vi ber om ursäkt och försök igen senare.
Download
Request quotation
Request quotation
Offert för K3HB-P
Fyll i alla obligatoriska fält. Vänligen fyll i alla fält markerade med *. Dina personliga uppgifter behandlas konfidentiellt.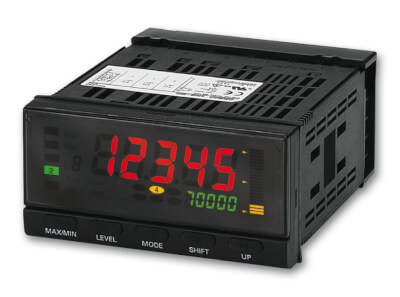 Tack för din offertförfrågan. Vi återkommer med önskad information inom kort.
Vi har tekniska problem. Din formulär har inte varit framgångsrik. Vi ber om ursäkt och försök igen senare.
Download
Features
Harsh environment
Control products can be subjected to harsh environments where they can be splashed during the process or covered in dust or get warm through their location. The E5CN, E5CSV, H7CX, H5CX and K3HB all feature a NEMA4X (IP66 equivalent) front panels so are suitable for the use in these applications, also the low profile fascia means that they are less prominent in the front of the panel and so less likely to become dirty.
Display mixing speed
Measuring the speed of the paddles helps to maintain the quality of the mixture. The speed is being controlled by an inverter; the K3HB-P is using pulses from the proximity sensor looking at a toothed cog. The outputs of the K3HB-P can be used for either alarms or to change the speed of the inverter, thus allowing for variations in batch volume.