Pro Project Machinery develops world's first five-lane bag-in-box machine with OMRON technology
For manufacturing companies, any innovation that can boost production whilst also being more energy efficient is likely to be welcomed with open arms. And this is exactly the type of innovation that's been developed by Pro Project Machinery, with the help of OMRON Industrial Automation. The result has been the world's first ever five-lane full servo bag-in-box machine.
Based in Cape Town, South Africa, Pro Project Machinery specialises in designing, manufacturing and assembling bag-in-box machinery. Its customers include the world's leading flexible packaging companies. The bag-in-box is a strong plastic bag into which a plastic tap is inserted, and the bag is then enclosed in a fibreboard box. The resulting item is then used for products such as wine, milk and water.
Developing a world first
As part of its drive towards great innovation, production and sustainability, Pro Project Machinery recently took on its most ambitious project yet. It decided to design a five-lane servo machine for bag-in-box production. This would enable it to boost productivity without having to increase the number of operators - and the fifth lane would take up relatively little extra space. Servo machines provide over 30% higher energy efficiency than pneumatic machines and also give better repeatability across seals.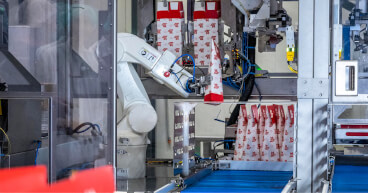 Pro Project Machinery already had a four-lane servo machine but decided that a fifth lane would provide greater benefits. However, no five-lane servo machines had ever been designed for this purpose before. The biggest challenge that the company faced in developing the new machine was finding how to add the fifth lane to the fitment units. They had to work with the space constraints of the factory as well as the container restraints of the machine itself. This forced the company to come up with new and creative solutions for feeding the fifth lanes, including the design of new singulation processes and conveyor methods.
Contact us for more information