K6PM-TH
Thermography-based Condition Monitoring
K6PM-TH measures and monitor the surface temperature through up to 31 connected infra-red cameras, as a continuous thermography.
The technology is designed to monitor facility and equipment panels, preventing the risk of overheating that might be due to bad connections, loose wiring or lack of ventilation. The device are also suitable to monitor the temperature of surfaces which temperature should not exceed a given threshold (hot air ducts).
The proprietary algorithm running in the controller allows to:
Monitor and predict temperature trend, signalling alarm anytime the temperature of a given area is above the set threshold or is expected to reach critical value in near future
Consider the differential temperature trend (between environment and measured object), signalling alarms only if critical conditions occur.
automatically set the temperature threshold of each area (every camera divides the monitored area in 16 quadrants), based on baseline conditions
The device can either be used as stand-alone, or integrated in a wider solution, enabling functions such as:
E-mail notifications in case of warning/alarm,
Remote monitoring
Interaction with custom applications and MQTT server.
Specifications & ordering info
| Produkt | Supply voltage AC | Supply voltage DC | Description | |
| --- | --- | --- | --- | --- |
| | 20.4-26.4 V | 20.4-26.4 V | Thermal condition monitoring device for control cabinets and panels, 24 VDC, transistor control output, Push-in Plus, LCD display, EtherNet/IP and Modbus TCP | |
Compare products
Show more products
How can we help you?
If you have a question or would like to ask for a quote, please contact us or send a request.
+46 (8) 632 35 00
Contact us
Kontakta mig K6PM-TH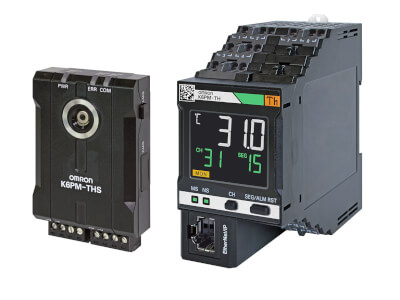 Tack för din förfrågan. Vi återkommer inom kort.
Vi har tekniska problem. Din formulär har inte varit framgångsrik. Vi ber om ursäkt och försök igen senare.
Download
Request quotation
Request quotation
Offert för K6PM-TH
Fyll i alla obligatoriska fält. Vänligen fyll i alla fält markerade med *. Dina personliga uppgifter behandlas konfidentiellt.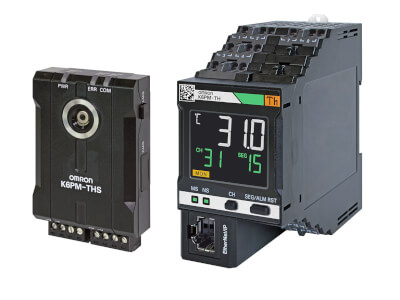 Tack för din offertförfrågan. Vi återkommer med önskad information inom kort.
Vi har tekniska problem. Din formulär har inte varit framgångsrik. Vi ber om ursäkt och försök igen senare.
Download
Feature
K6PM is a reliable partner to monitor critical facility panels, as well as equipment panels along their entire life (development, validation, FAT and after installation).
Particularly suitable for those application where the panel is located right next to a machine generating intensive heat (furnaces, ovens, molding machinery).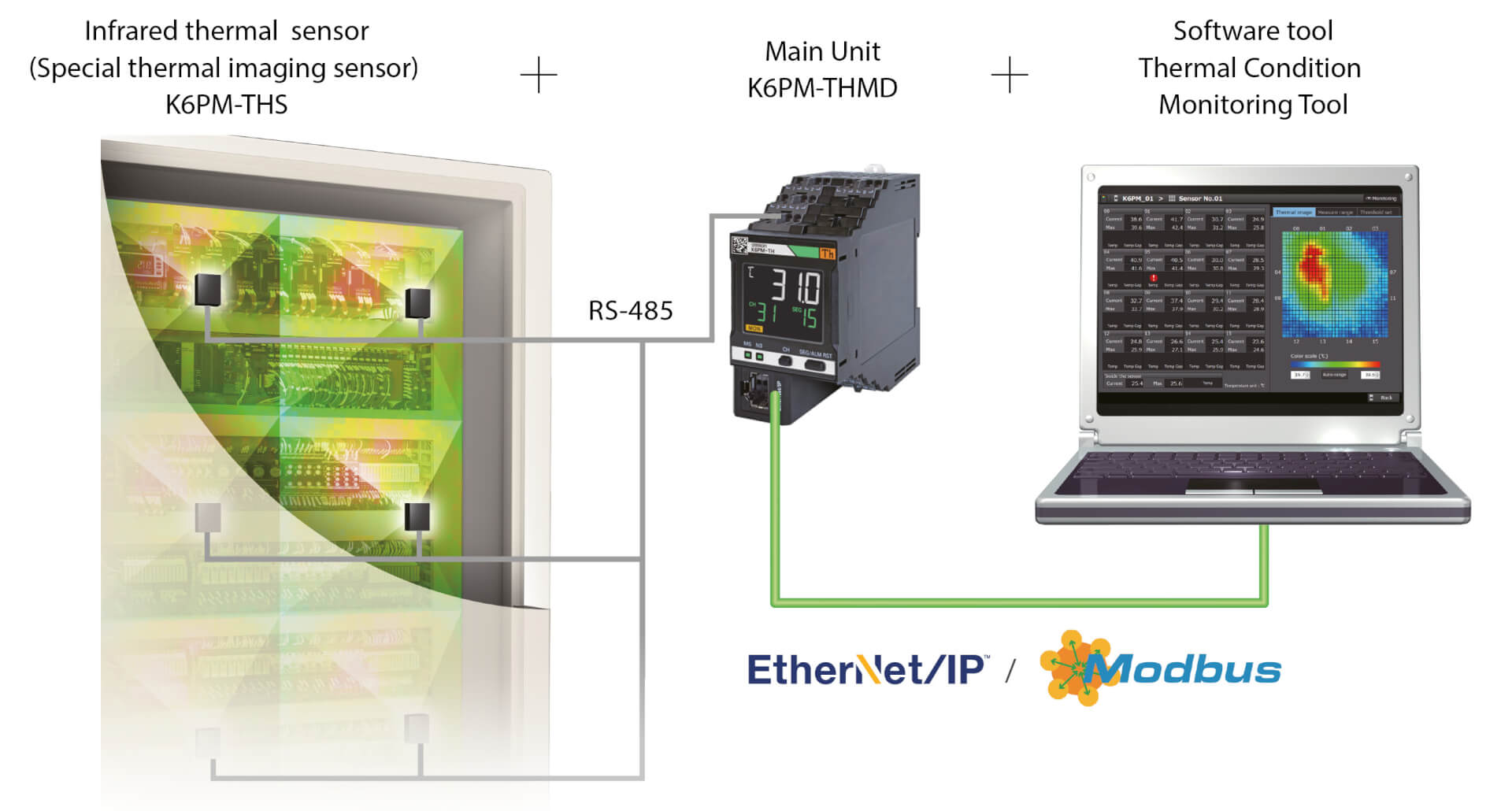 Solutions
Stand Alone installation (Without PLC)
This simple solution allows to:
Monitor the status of the motor through the onboard LED, or through to the Condition Monitoring Software
Setup the controllers through the Condition Monitoring Software, provided with the device
Interface the K6PM with any external I/O devices (dig. Output)
Stand Alone installation (with PLC)
This solution enables, in addition of the previous solution, to:
Monitor the status of the motor through to the Condition Monitoring Software, running on a PC which is connected through a PLC
Use the PLC remote-connection to reach the K6PM for remote monitoring and setup
Trigger, through the PLC, actions following any warning/alarm detected by K6PM
Notifications and remote monitoring - without PLC
This solution, using Omron RT1 as a gateway, enables:
e-mail/SMS notifications in case anomalies are detected by K6PM
secure connection (managed by RT1) to cloud, either via LAN or via 4G connection
secure connection for remote monitoring and setup of K6PM, using the Condition Monitoring software provided with the controller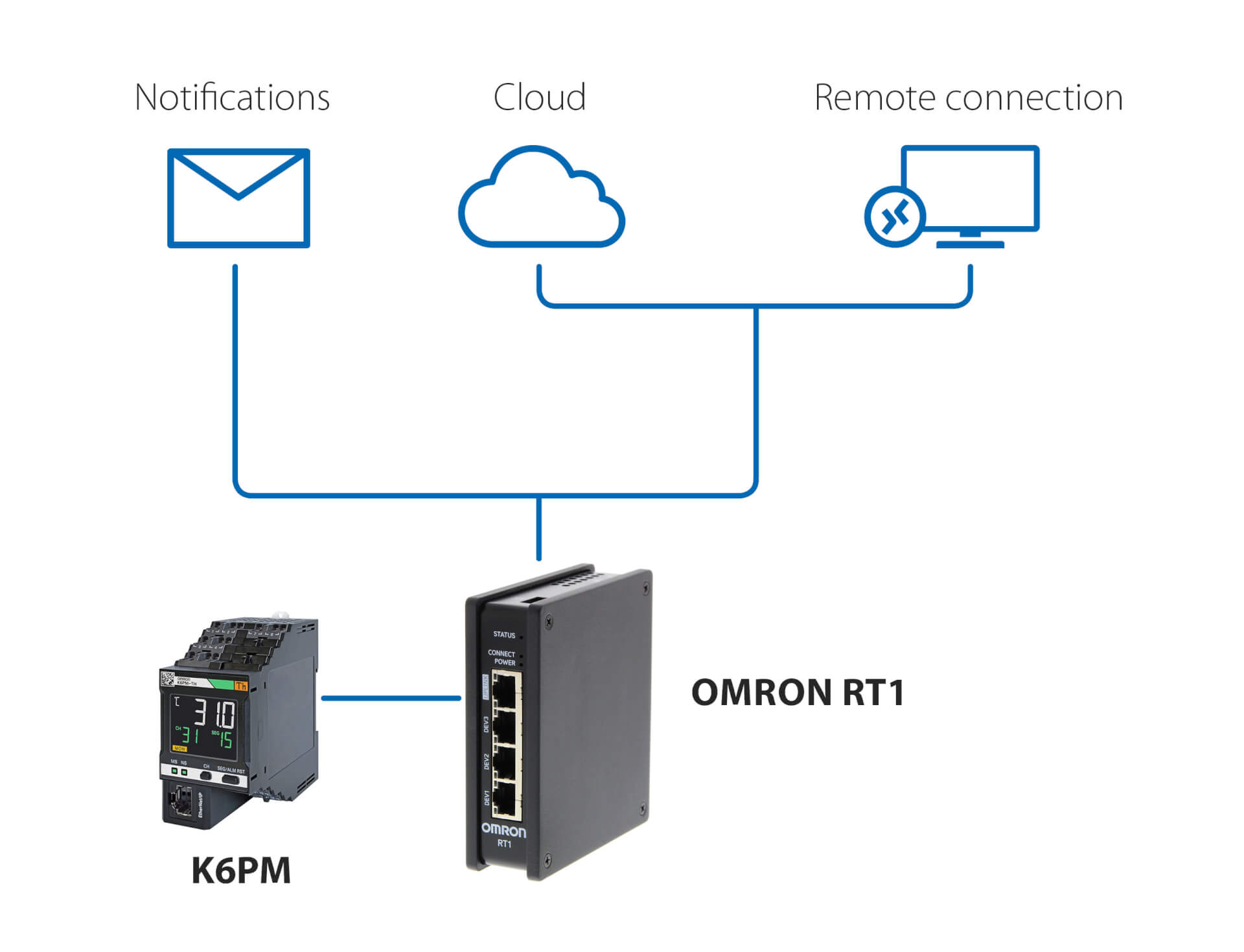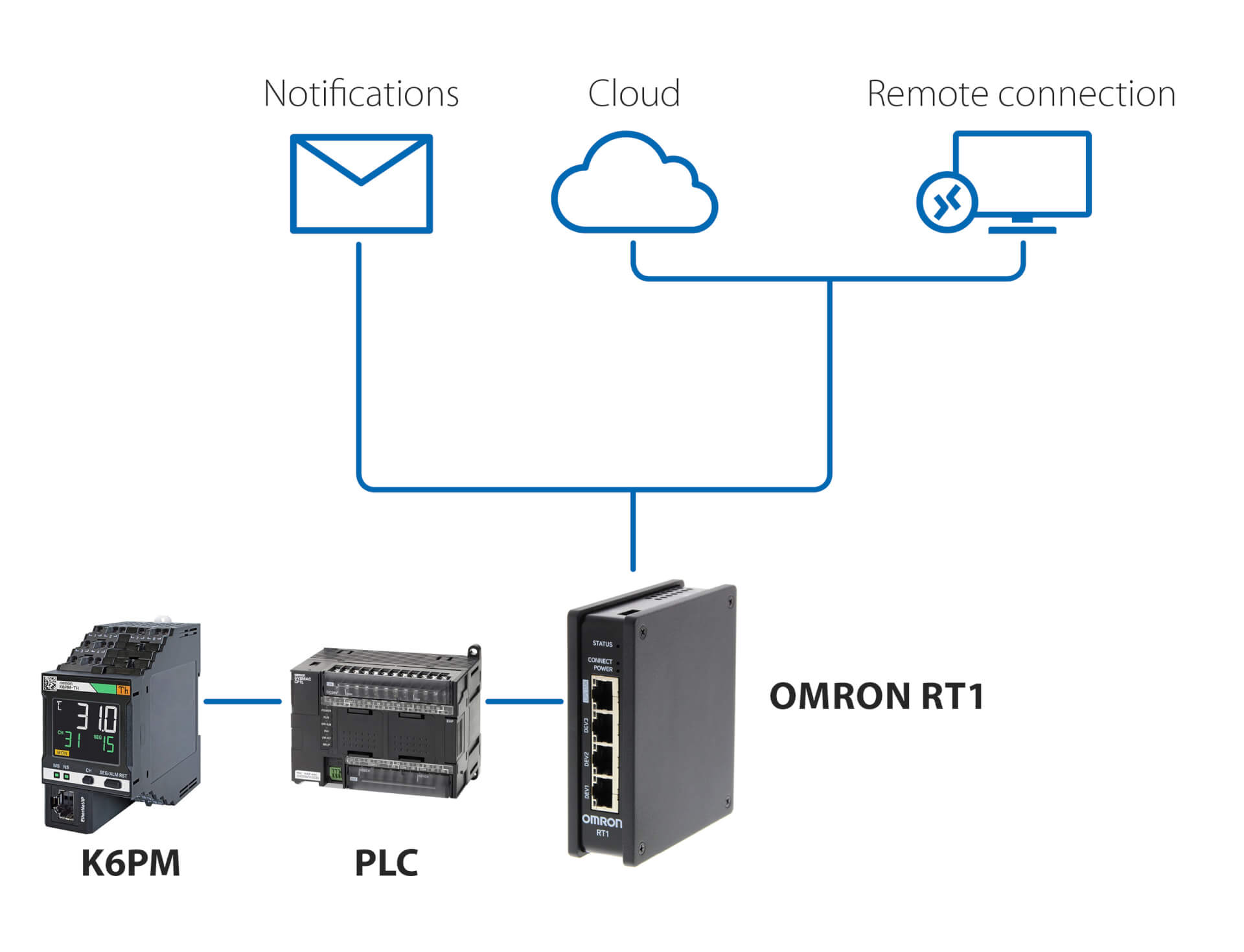 Notifications and remote monitoring – with PLC
This solution, using any PLC and Omron RT1 as a gateway, enables:
e-mail/SMS notifications in case anomalies are detected by K6PM
secure connection (managed by RT1) to cloud, either via LAN or via 4G connection
secure connection for remote monitoring and setup of K6PM, using the Condition Monitoring software provided with the controller